Mikael Hagstroem
Chief Executive Officer
Mikael brings over 30 years of experience in digital transformation, helping global enterprises harness big data to reimagine their business models and create a long-term sustainable advantage.
As a Partner at McKinsey & Company and Chief Operating Officer of McKinsey Analytics, Mikael helped companies create and scale new business strategies enabled by artificial intelligence (AI). Most recently he was CEO and President at MetricStream, where he led its transformation to a SaaS model and championed integration of AI and the launch of its new Integrated Risk Management Platform.
In his 25 years at SAS Institute, Mikael helped build the analytics software leader into a multibillion-dollar enterprise and one of the world's largest privately held software businesses. He ultimately held the positions of Executive Vice President of SAS and President of SAS International.
Mikael is currently on the Board of Advisors of the AI Forum and has served as Chairman of the World Economic Forum's Global Agenda Council on Data-Driven Development and on the Global Future Council, Chairman of the American Chamber of Commerce to the EU, Executive Committee member of the U.S. Council for International Business, and as an Executive Board member of the Atlantic Council. He is also an Independent Director of Planet Smart City and Executive Chairman of TCG Digital.
Bob Voelkner
VP, Sales and Marketing (Americas)
Prior to joining LabVantage in 2009, Mr. Voelkner was Americas Sales Manager for the LIMS division of Applied Biosystems. Previously, he spent seven years in a number of sales leadership positions at Thermo Fisher Scientific's Informatics and Services division. He started his career at Beckman Coulter, Inc. as a senior software developer working on LIMS and chromatography data systems, progressing to Director of Global Sales and Marketing of its Laboratory Automation Operations division
He is a graduate of the University of Scranton with a bachelor's degree in computer science.
Wolf Lichtenstein
President, LabVantage Europe
Wolf joined LabVantage in June 2021 to lead efforts across the European Union. Based in Berlin, he is a performance-driven business leader with a track record of creating a growth culture focused on results, as well as respect, empowerment, diversity, and collaboration. Previously, Wolf was a partner and senior advisor at McKinsey & Company, EMEA General Manager for C3.ai, and CEO at Webtrekk GmbH. He was also a member of the EMEA board for the SAS Institute, where he was responsible for EUR 250 million and 600 people. A psychologist, computer scientist, and expert in digital transformation and artificial intelligence, Wolf has attended the World Economic Forum five times. He has a Master of Arts degree in psychology from the Universität Augsburg.
Michel Gerlicher
President, LabVantage International; President, LabVantage Medical Suite
Michel oversees LabVantage's customers outside of North America and Europe, and drives the business for our healthcare laboratory information system, LabVantage Medical Suite. He joined LabVantage in 2014 when we acquired SPLIMS, the company he founded that sold and supported LIMS in the French-speaking regions of the world. Prior to that, he spent 25 years at Thermo Instrument Systems (now Thermo Fisher Scientific) in business development and as President, EMEA. He earned a master's degree in physical nuclear sciences and mass spectroscopy and a biomedical engineering degree. He also earned a degree in business strategy development and business administration.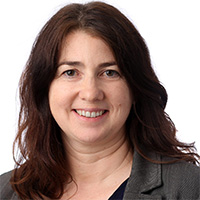 Florence Penhouet Grosso
Vice President & Director, LabVantage Europe
Florence joined LabVantage in 2014 with the acquisition of SPLIMS. SPLIMS had been an exclusive LabVantage distributor and partner since 2004 in French territories. As part of its original management team, she was instrumental in building the SPLIMS business, effectively managing both sales and operations and actively developing the French, Moroccan, and Canadian divisions.
Florence has more than 20 years of experience in the LIMS industry and has worked for Beckman Coulter and Autoscribe LIMS in France.
Florence has a double competence Master's Degree in Génie Physiologique and Biotechnologique et Informatique from Poitiers University.
Matt Grulke
VP, Research and Development
Matt brings 25 years' experience in the software development and information technology markets to his role at LabVantage. This includes over 13 years with Thermo Fisher Scientific's LIMS, SDMS, and CDS businesses where he held several leadership positions in R&D, Product Management, Marketing, and Professional Services. He gained extensive experience in software development, software architecture, project management, and technology leadership while employed at GlaxoSmithKline, Nationwide Financial, and Corporation Service Company. Matt has also spent 9 years serving on non-profit boards focused on STEM education.
Matt has a Bachelor of Science in Business Administration from the University of Delaware, a Master of Science in Information Systems from Drexel University, and a MBA from Drexel University.
Craig Bowie
VP, Professional Services (Americas)
Prior to Joining LabVantage in 2002, Craig worked in various Project Management roles and a Customer Enhancement Services Manager position with Beckman Coulter. Here he was responsible for overseeing LIMS installation projects and managing the Technical Consultant teams. He was able to increase the efficiency of the department and revamp their implementation methodology.
Craig started his career as an Analytical Chemist at Schering-Plough Corporation. Craig now has over three decades of strong experience with LIMS installation projects and global team management.
He is a graduate of Villanova University in PA with a Bachelor of Science degree in Chemistry.
Marjut Pokkinen
Managing Director, Nordics
Marjut joined LabVantage in 2011 with the acquisition of Software Point. She cofounded Software Point in 1992 with Andrea Holmberg and Raimo Oinas. Software Point has been a partner and exclusive representative in Nordic and Baltic countries for LabVantage since 2000. Prior to her role as Managing Director, Marjut has worked with Software Point's LIMS products and LabVantage products in various positions at Software Point including project and product management, technical sales support, sales and business management. She also worked as a research scientist at Finnish biotechnology companies Genesit, Provivo and at the Institute of Physical and Chemical Engineering (RIKEN) in Japan. Marjut has a Master's and Licentiate of Technology degrees in chemical engineering from the Helsinki University of Technology (today Aalto University).
Jeff Vannest
Senior Director, Product Management
Jeff joined LabVantage in 2009 and has worked in the LIMS industry since 1997 as a product manager, quality leader, and technical architect. Currently, Jeff leads the Product Management department, which manages the product portfolio, prioritizes product features, and investigates new laboratory product and service opportunities. Prior to joining LabVantage, Jeff served as Senior Consultant at J&R Consulting, where he was the primary architect and developer for many of the world's largest pharmaceutical LIMS systems. Jeff is a Certified Manager of Quality/Organizational Excellence (CMQ/OE) and holds certifications for PMP (project management) and PMC-VI (product management). He received his B.S degree from Roberts Wesleyan College.
Don DiPalma
Director of Quality
Don brings more than 35+ years of experience in Quality and IT in the Life Sciences industry (Pharmaceutical, Consumer and Medical Device areas) with organizations including Glaxo-SmithKline, Bristol-Myers Squibb (BMS), Organon Pharmaceuticals, Enzon, ImClone and Janssen (J&J). Don's expertise is in Quality Management System, Software Development Life Cycle (SDLC), computer system validation, and auditing. While Don started his career in the laboratory, he worked in IT (writing computer programs, validating and implementing computer systems) and in quality (managing and enhancing processes like investigation, CAPA, change control, and auditing). He holds a Bachelor's Degree in Chemistry from Alfred University in Alfred, NY.
Prakash Paharia
Controller
Prakash brings 20 years of diverse experience in finance and accounting roles with Fortune 500 as well as mid size public and private companies. In many of these roles, Prakash has done significant work supporting international operations. He has a strong background in ERP implementations, internal process improvements, financial audit and transitional financial management.
He has a Master's Degree in Financial Management from University of Mumbai and is a Certified Public Accountant (CPA).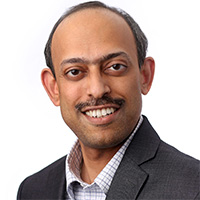 Neelesh Mirajkar
Senior Director, Global Human Resources
Neelesh brings 20 years of diverse experience with Fortune 500 as well as mid-size Companies, including at Accenture, Wipro and Oracle. Prior to joining LabVantage, he was the global HR Head for RCTG vertical of Wipro Technologies and also held the position of HR Head for a location with over 5000 employees. He also handled HR roles at Accenture, Oracle (i-flex solutions) and Britannia.
Neelesh has handled a wide diversity of HR areas including Leadership Development, Succession Planning, Employee Engagement, Performance Management & Recruitment. He is passionate about Change Management, Competency Mapping and Behavioral Training.
Neelesh received his Master's degree in Human Resources (from TISS) and a Bachelor's degree in Psychology (from DU). He also holds a certificate from Academy of Customer Excellence from Harvard Business School Publishing and was a certified Talent Transformer (CTT) at Wipro.