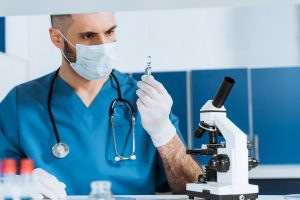 It's no secret that many labs struggle with tight budgets and manpower. You feel it too. While the tug-of-war between clinical care and resources is nothing new, it has become much more pronounced in the COVID-19 medical setting. Time-to-result is more important than ever, and in this environment, improving the efficiency and quality of your laboratory work can have an even greater impact than usual on the safety and quality of patient care.
One of the best ways to improve time-to-diagnosis and other results is to streamline your lab's critical workflows. Although these operations require strict compliance in a regulated healthcare setting, many of them are well-suited to process automation.
Automating routine jobs and processes can save your lab a considerable amount of time, while simultaneously reducing costs and opportunities for error. But what about compliance? Compliance standards can be built directly into the system to ensure adherence and speed administrative tasks. Beyond workflow and compliance benefits, however, ensuring every discipline in your lab has access to the same integrated platform also enhances information sharing and cross-discipline analytics – improving & speeding patient care.
How Much Time Could Your Lab Be Saving?
Pathology teams require multiple, unconnected systems to get the information they need. As a result, the diagnosis and treatment of patients is likely to suffer. It's not unusual for a lab to have all the necessary data stored in siloed systems, making it difficult for key information to be accessed when and where it's needed most.
While many labs believe they already have integrated workflows, many are still using interface engines to enable different systems to communicate with one another. A far more efficient approach is to use a single platform for all disciplines, sharing common features, databases, and interfaces without introducing the opportunity for system translation or transmission errors.
Current CBC Workflow
Consider the task of conducting a complete blood count (CBC), a common test that can evaluate overall health and detect a variety of diseases and conditions, such as infections, anemia and leukemia.
First, the CBC must be flagged for abnormal blast cells. These are then counted and reviewed manually by a medical technologist (MT), who sends the results to a pathologist for review.
This entire process can be handled seamlessly in the LabVantage Medical Suite, an integrated Laboratory Information System (LIS) which automates the workflow wherever possible and provides a common platform for the MT and pathologist to share data. In this example, the pathologist not only has access to all of the patient's current data, but to any historical results in the system, as well.
Improving Management of Patient Data
Your lab technicians or administrative teams likely spend countless hours queuing up or gathering patient data and compiling path reports into your HIS or LIS systems. What if your lab's LIS was designed to automate those tasks?
Since every clinical lab is different, the exact amount of time this can save will vary – and the extent to which automation has been adopted in the lab will be a factor.
In a typical lab, however, LabVantage LIS workflows can be expected to save several hours per week for the administrative staff alone. The use of technical and medical validation features can save additional hours of time for bench technicians as well.
Covering All the Bases
Manpower limitations can make it challenging for techs to manage all of your lab's essential tasks. While workflows can help ease this burden, they must be simplified enough to allow for cross-training – yet robust enough to account for changing conditions or new processes.
In Sweden, Medical Suite manages data in nine general labs, four pathology labs, and two microbiology labs across Region Skåne's health system. This includes Skåne University Hospital — Sweden's third largest hospital, serving more than 1,200 inpatients per day in 2019 — and Helsingborg and Kristianstad hospitals. In total, the region's 10 hospitals perform some 30 million lab tests annually.
The Region's Medical Suite is integrated with a wide range of hospital data systems and laboratory instruments, automating and streamlining many different workflows. For example, it interfaces with a Picture Archiving and Communication System (PACS), allowing more than 4,000 histology slides to be scanned daily, with digital images available on a computer screen.
Staying Nimble Without Sacrificing Simplicity
With its built-in workflow rules engine, LabVantage Medical Suite can adapt to variations of laboratory workflows and incorporate your desired level of process automation. User- and role-specific work lists and patient-centered views make the platform easy to use and learn, speeding user adoption.
Learn more about LabVantage Medical Suite, and how an integrated LIS with built-in and configurable workflows and powerful business intelligence tools can seamlessly address your manpower and resource needs while streamlining patient care.