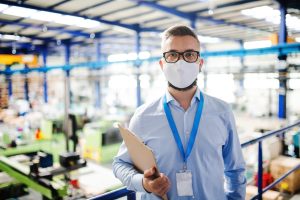 For most companies – especially those with larger, more complex or global operations – returning to the workplace is a logistics challenge.
The world has changed. And while the duration of this change remains unknown, we still must navigate it today.
Employees need to be kept safe and healthy today.
Our operations need to adapt to new working realities today.
Production continuity and safety planning need to happen today.
There's a realization that anyone can be a carrier – symptomatic or not. In the absence of a vaccine or treatment, accurate & frequent testing is all we can do to ensure people can return to the workplace with the assurance they won't infect others, and with the peace of mind that those around them are safe, too.
All of this means data…and the ability to manage and harness that data to drive accurate decision-making while keeping employees healthy.
In a white paper on How to Manage COVID-19 Testing in the Workplace, we surveyed the current landscape: in March, businesses went into lockdown sending employees to unemployment limbo or onto home office-based virtual meetings. Essential businesses – including manufacturers – endured severe operational constraints. All of these problems continue, both nationally and globally.
Finding a new normal depends on being able to bring large numbers of people in many different functions back together again in a tested and secure environment. As we noted in the white paper: "A number of large employers were quick to step up and announce plans. For example:
Automaker Ford introduced testing for the presence of the active virus at locations in Michigan, Kentucky, Missouri, and Illinois as it rushed to get 12,000 of its workers back into plants by mid-May.
According to news reports, Amazon plans to test the bulk of the company's warehouse workers every two weeks, using nasal swabs under the guidance of clinical professionals.
In the hard-hit airline industry, Delta announced its intention to roll out a protocol for testing both viral loads and antibodies."
The question is, how do you get your employees back in to the workplace safely?
How Do You Implement Workplace Testing?
Many larger companies have the resources to offer testing through employee health programs. Other companies without in-house labs and clinics rely on health and safety teams to order employee testing and coordinate with third-party clinical testing providers.
A global consumer goods customer (case study here) has more than one hundred thousand employees. They were able to use their in-house medical and laboratory personnel to securely test and track the data. With existing labs dedicated to product development & quality, they also had the physical lab resources needed to manage the employee testing process entirely in-house.
The testing process for this company is straightforward: both symptomatic employees as well as those who request a test to ensure their safety are quickly scheduled for the procedure. They use LabVantage's purpose-built COVID-19 LIMS for sample management, patient privacy, and secure results reporting. The LabVantage platform prepares the sample request, labels the sample specimens, tracks all patient and sample data, and reports the results of the test.

Rapidly Tailoring Informatics to COVID-19 Workplace Testing
When COVID-19 initially spread in the Spring, it quickly became apparent that informatics capable of managing testing, with the flexibility to adapt to rapidly evolving science, was going to be critical. Clinical labs and third-party diagnostic labs have struggled to keep pace with the trickle – and subsequent flood – of COVID-19 tests.
Because testing for COVID-19 requires test-specific workflows, LabVantage was approached by a number of existing customers seeking adapted informatics systems. Many clinical lab managers expressed an urgent need for a lab management system capable of handling COVID-19 specific tasks & workflows, while providing comprehensive end-to-end compliance (e.g., HIPAA, GDPR, FDA, CDC, etc).
As we designed LabVantage COVID-19 LIMS, it was immediately clear that scalability is critical. While some companies choose to do all employee testing in-house, others collaborate with third-party labs. In both cases, being able to meet on-demand volume was a necessity – especially for global organizations.
LabVantage's COVID-19 Laboratory Information Management System is designed to manage employee testing for the virus in a seamlessly-scalable, flexible, and easy-to-use solution. It is available in multiple formats to meet your organization's IT infrastructure and budgeting requirements: SaaS (Software-as-a-Service), cloud-hosted, or on-premise.
This solution gives corporations an accurate, reliable testing and tracking methodology which meets multiple demands:
Privacy
Accountability
Availability
Affordability
It also helps your organization build employee trust and ease fears about returning to the workplace.
Ensuring Compliance
If you've talked with your HR and legal teams, you'll know that – when it comes to testing for COVID-19 in the workplace – compliance is a top concern. On the patient side, HIPAA (the US Health Insurance Portability and Accountability Act) and GDPR (the EU's General Data Protection Regulation) both require the implementation of strict privacy and security protocols.
On the testing side, other regulatory & compliance issues come into play. From the initial order for the test through to reporting the test results, the entire process must meet all US Food and Drug Administration (FDA) and the Centers for Disease Control (CDC) guidelines.
The information management system you choose needs to ensure employee privacy and meet all US and EU regulations. LabVantage COVID-19 LIMS delivers employee privacy using a variety of permission levels and management roles already established in the platform. As with any health-related issue, only medical personnel have access to personal patient data. The lab personnel conducting the tests can only access anonymized data.
We built our COVID-19 informatics platform to incorporate specific workflows to further strengthen compliance and simplify validation practices. For example, it accommodates standard and customer-determined protocols for testing using a variety of approaches—such as RNA Isolation, Quantitation, and RT-PCR. Existing validation practices and Certificates of Release help companies ensure validation efforts are focused and can be expedited.
LabVantage COVID-19 LIMS allows companies to:
track CDC-mandated patient metadata with pre-built patient intake, risk and symptom tracking, physician prescription and record, electronic case reports, scheduling, and other forms.
meet state and CDC reporting requirements.
comply with CFR Part 11 and Annex 11 and protect PHI with capabilities designed to help you comply with HIPAA and GDPR regulations.
integrate with instruments and downstream systems like EMR/EHR.
Speed is Essential
The battle to slow and eventually arrest the spread of COVID-19 requires an ability to move quickly and adapt to a fluid situation. Ensuring the health and safety of employees during this stressful time demands a comprehensive, compliant solution that can be quickly implemented and efficiently managed.
Want to learn more about how you can safely return employees to the workplace? Download this whitepaper to get started or visit these resources for more information:
Website Pages
LabVantage COVID-19 LIMS
White Papers
How to Manage COVID-19 Testing in the Workplace
Blog Posts
Is Your Lab Keeping Up with Rising COVID-19 Research Sample & Testing Volumes?
Press Releases
LabVantage Solutions Announces New Purpose-Built Biobanking LIMS Accelerator for Managing COVID-19 Testing
Case Studies
Overcoming COVID-19 Sample Handling Challenges with LabVantage LIMS
Employee Health and Safety in a Time of Crisis: Testing for COVID-19
Brochures
LabVantage COVID-19 LIMS Overview
Contact LabVantage
https://www.labvantage.com/who-we-are/contact-us/